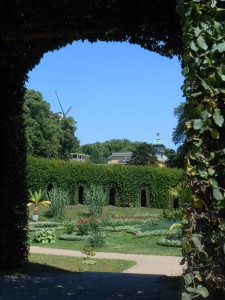 Potsdam – das Paradies auf Erden
Überblick-Spaziergang zur Selbsterkundung. Lassen wir uns im Park Sanssouci vom Flair des "Savoir Vivre" der Preussische Schlösser & Gärten erfreuen: vom Neuen Palais über die Römischen Bäder zum Schloß Sanssouci: Ein Spaziergang ohne Sorgen in gestalteter Landschaft.
Termin und Preis nach Vereinbarung, Zeit: 11 – 13.30 Uhr
Potsdam – Paradise on earth
Information-walk through special parts of the sanssouci-park. Walk from the new palace to the roman thermes to Sanssouci Palace.
Date and price by appointment, Time: 11 a.m. – 13.30 p.m.
Start/End(e)
Start: Hauptbahnhof Potsdam/am Ausgang zur Langen Brücke (Westl.Ausgang)
S 7 RE 1 von Berlin (Fahrzeit ca. 30 Min.) Railway Central Station Potsdam/exit to the long Bridge (west exit)
S7 RE 1 from Berlin ( train ride about 30 Min.)