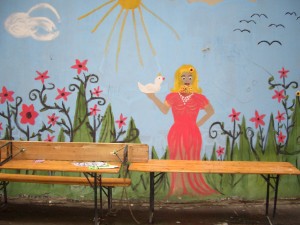 Unglaubliche Berlinerinnen
In 8 Stationen lernen wir einige von ihnen kennen, die zu verschiedenen Zeiten hier lebten: Fanny Hensel geb. Mendelsohn-Bartholdy, Rachel Varnhagen, Madame DuTitre, die Heilige Gertraude, Prof.Dr.Lise Meitner, Marlene Dietrich, Königin Sophie Charlotte, Nelly Sachs und Frauen von heute: z.B. die Frauen vom Life e.V.
Die Tour führt vom Gendarmenmarkt zur Nikolaikirche weiter durch das zauberhafte Alt-Berlin über den Berliner Dom zu den Orten der Frauen.
Unbelievable Women of Berlin
At 8 stops in the historical downtown Berlin we will virtually meet women of Berlin in former times and of today.
Specials: "Damen-Salonkultur im Wandel der Zeiten" (Women´s Club Culture throughout berlin-history); "Sophie Charlotte – eine Königin mit Ambitionen (Sophie Charlotte – ambitioned Queen of Prussia); "Familie von Humboldt und das Schloss Tegel" (The famous v. Humboldt's and their palace in Tegel/village nearby Berlin).
Start/End(e)
Start: Gendarmenmarkt, am/at the Schiller-Denkmal/Schiller-Skulpture
End/e: Hackescher Markt – Dauer/Duration: 2/1/2 Std./h
Verkehr/Traffic: S-Bhf. Hackescher Markt: S2,S3, S5, S7; Bus: M4, M 5